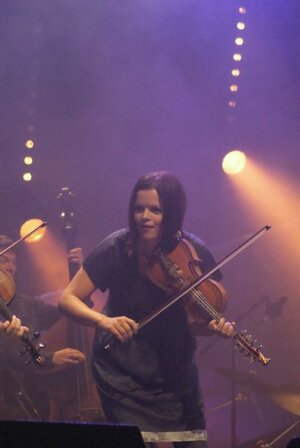 Annbjørg is one of Norway's most outstanding fiddlers. She has a solid basis in traditional music, but is strongly inspired by crossing musical borders. Her collaboration with musicians from all over the world has made her a top performer of world music as well as Norwegian folk music. She has the courage to bring folk music into new musical landscapes.
Annbjørg comes from a musical family, and studied Hardanger fiddle with her father in addition to classical violin at Ålesund Music School. She later studied privately with several other fiddlers, including Hauk Buen of Telemark.
She has also studied interior architecture and furniture design at the Oslo National Academy of Art.
Several symphony orchestras have engaged Annbjørg as a guest soloist to perform compositions written for the Hardanger fiddle, such as Geirr Tveitt's "Tri fjordar". She has made countless television and radio appearances, including a TV special in memory of King Olav V.
She has actively toured with Norwegian music and culture abroad for 25 years, travelling to most parts of the world. Her collaboration with folk musicians from different countries has taught her that folk music is truly an international language.
"If you like moody, sometimes dark, folk music, punctuated by beautiful musicianship and artistry, then you will find nothing to dislike here."
–Pop Matters
"Whether moaning like late-period Led Zeppelin or humming like a hungry North Country mosquito, Lien's hardanger fiddle is guaranteed to inspire surreal dreams."
–Atlantic Monthly
"…Lien's spectral fiddling proves hauntingly absorbing as it introduces the past to the future."
–Richard Harrington, The Washington Post
She was a member of the folk music group "Bukkene Bruse", which toured in the USA, Japan, Germany and Spain in 1993 as Norway's official Olympic musicians. The group also performed at the closing ceremony of the Olympic Winter Games in Lillehammer in 1994. In 1998 Bukkene Bruse were invited to become ambassadors for the Save the Children fund. They went to Mozambique to learn about the organisation's important work, and to communicate with the children through music.
Annbjørg is a member of the international fiddle band "String Sisters".
She is a six-time winner of the first prize for traditional folk music at the Norwegian National Contest for Traditional Music, and has also won first prize for dance music in Norwegian and Nordic competitions.
She has participated on several others albums, including The Chieftains' "Tears of Stone", Andy Irvine's "Abocurragh" and Loreena McKennitt's " An Ancient Muse".
Annbjørg is also much in demand as a teacher, and offers master classes all around the world. Her encounters with students are as intense and personal as her concerts. She inspires her audiences to join her on a vibrant and colourful journey into her own personal folk world.